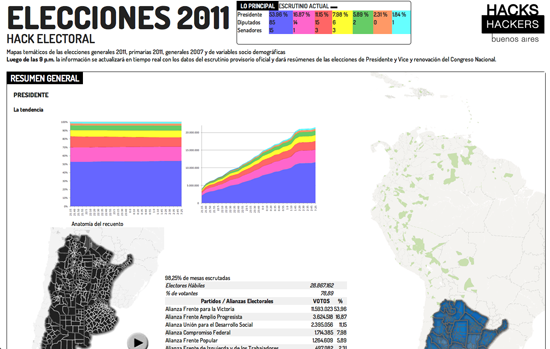 Electoral Hack is political analysis project that visualizes data from the provisional ballot results of the 23 October 2011 elections in Argentina. The system also features information from previous elections and socio-demographic statistics from across the country. The project was updated in real time with information from the provisional ballot count of the national elections of 2011 in Argentina and gave summaries of election results. It was an initiative of Hacks/Hackers Buenos Aires with the political analyst Andy Tow, and was a collaborative effort of journalists, developers, designers, analysts, political scientists, and others from the local chapter of Hacks/Hackers.
What data did we use?
All data came from official sources: the National Electoral Bureau provided access to data of the provisional count by Indra; the Department of the Interior provided information about elected posts and candidates from different political parties; a university project provided biographical information and the policy platforms of each presidential ticket; while socio-demographic information came from the 2001 National Census of Population and Housing (INDEC), the 2010 Census (INDEC), and from the Ministry of Health.
How was it developed?
The application was generated during the 2011 Election Hackathon by Hacks/Hackers Buenos Aires the day before the election on October 23, 2011. The hackathon saw the participation of 30 volunteers with a variety of different backgrounds. Electoral Hack was developed as an open platform that could be improved over time. For the technology, we used Google Fusion Tables, Google Maps, and vector graphics libraries. Read more